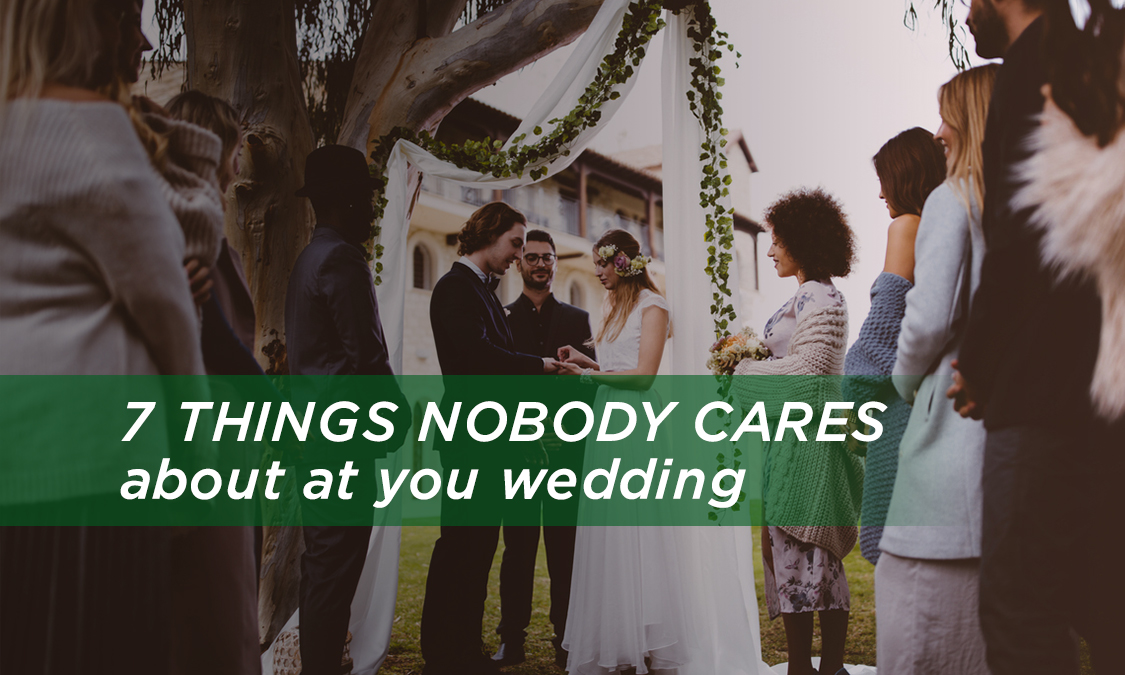 It's a global truth wedding planning is cumbersome. With an endless list of decisions to make, from the dress to the decor to the catering and everything in between, the stress piles up at fast speeds. In one minute, you are trying to choose between some ranunculus and roses, and before you get your desired one, you stumble on this Pinterest scrolling between different shades of flowers, which gets you more confused. That said, in this article, we pay attention to 7 things nobody cares about at your Wedding.
Instead of driving yourself crazy and draining your energy over the tiniest details, save yourself a headache by knowing what matters, and avoid what does not.
1. The Flowers
Do not get me wrong here; the floral arrangement is always a welcome addition to your chosen venue, and inject the space available with your style. While no one will argue about the golden dip-dyed roses are not gorgeous, they are a total waste of money and time. Trust me, and no one will notice the lack of designer blooms and your well-arranged farmer's flowers will be striking-just at a fraction of the price.
Guests will appreciate the fragranced flourishes no matter what.
2. The Linens
As a guest at a wedding, I do not pay attention to your tablecloths. As long as I will not eat my halibut off a dirty burlap sack, all is fine. Unique linens can get costly, so save yourself the buck and choose something functional and straightforward that blends seamlessly with your decor- no muss, no fuss.
3. The Cake
The handcrafted sugar cream designs, towering layers, and some 25-carat gold motifs. The meticulously detailed bridal cake is undoubtedly great; however, the guests will not miss the details if you opt for an stylishly simple confection instead. As long as the cake tastes delicious, you have just guaranteed your visitors a pleaser.
4. The Dress
On this, it is a bit controversial, but I think blowing off your bridal budget on a fancy-schmancy gown just to put it on once and never again is less than practical. Always remember, it is not about what you wear, but how you wear it. Therefore, as long as you are comfortable and feel your most beautiful self, well, that is good enough.
5. Shoes
The craze for shoes always affects wedding budgets. Fun fact story, during my wedding, I shipped seven pairs of shoes. Out of the seven, I tried them out, they did not fit for the occasion, and I had to go for my flip-flops, which at the end turned out to be comfortable and excellent.
6. The First Dance
Short of a live performance from known artist to provide a soundtrack, no one will remember your first dance. In fact, a shaky, nervous and choreographed routine is what will stick your guests. Instead of weeks of training and rehearsal to master the two left feet dance, it is vital just to be yourself and enjoy the moment. Tackle the few moves that you feel 100% comfortable performing.
7. The Wedding Favors
Edible sweet treat-which guests can enjoy during the afterglow of the wedding as they share memories of your soiree. Customized candles, champagne flutes and other novelties are forgettable by guests. Besides, they have added expenses for the bride and groom for no reason.